Field manners
Tips for hikers Daisetsuzan National Park
This video introduces advice and tips on what and how to prepare when you plan to go to Daisetsuzan mountain range.
The host is Michiko Aoki, who manages guide office called Mountain flow.
Please watch video before climbing the mountain.
If you scan QR-code the below and watch the video anytime your cell-phone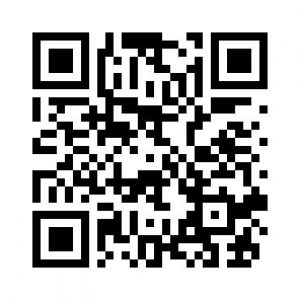 Climbing plan submission
The total length of the hiking trails in Daisetsuzan National Park amounts to approximately 300km, and one of park's attractions is that you can enjoy a myriad of routes. At the same time, however, mountaineering accidents, such as becoming lost, slipping and experiencing hypothermia are not uncommon. Please submit a hiking plan that is suited to your physical strength, upon gathering information on the weather and hiking trail conditions beforehand, referring to the Daisetsuzan Grade System, and take action based on self-accountability.
[Climbing plan form] 
・Asahidake ropeway Sanroku station
・Asahidake ropeway Sugatami station
・Entrance of mountain trail to Tennyo-ga-hara
Make a hiking plan that is suited to your physical strength.
Make a hiking plan that is suited your skills, physical strength, and the condition of the day, and Take time to make plan and prepare for your hiking.
Watch out for natural disasters.
Whatever the time of year, The weather in the mountains unsteady and can change rapidly.
There is the possibility natural disasters such as heavy fog, rockfalls, avalanches, and snowstorms occur and consequently many accidents such as lost roads, distress, slippage, and falls happen at all the year over.
When entering the mountain, be sure to have sufficient equipment and check the weather and route in advance. When the weather is bad, please return back.
Do not damage flora and fauna, do not take them home, do not bring them in.
The mountains are home to many plants and wildlife. To preserve the landscape and protect the natural environment, do not damage nature, do not step in plants area, and do not take them home.
Also, as it may affect the ecosystem, please do not bring in plants and seeds from other places.
Take back the garbage or foods.
There is no trash can on the trail. Be sure to take the garbage home so that it will not affect wildlife or nature.
Do not feed and touch wild animals.
Eating food provided by humans weakens the resistance of wild animals and makes them to be make vulnerable to infections. To get used to a person makes them affects eco-system and causes in traffic accident.
Also if you touch them you could be infected with the echinococcosis parasite, so do not touch them!
Use a disposable toilet bag
The last flush toilet is in  Sugatami Station. (upper station)
In mountain area, there are some temporary toilet tents for using disposable toilet bag easily.
please cooperate to use a disposable toilet bag to keep the mountains clean.
[Map of mountain toilet]
You can get [Map of mountain toilet] in the Asahidake visitor center.
You can also download PDF data from the following: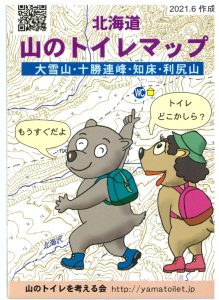 [Disposable toilet bag retailer] 
There is a possibility that it will be sold out, so please contact each store directly for sales status.
·Seico Mart Higashikawa
·Montbell Daisetsu Higashikawa
·Transit Higashikawa
·Asahidake Visitor Center
[Disposable toilet bag collection box] 
Set up in front of Asahidake Visitor Center only available in summer and fall.
You can enter even after hours.